My Farrell's Transformation Story
By Terrell Harris
First and foremost, I'd like to say to every single person who was, has been, currently, or thinking about being in the year-long, Farrell's eXtreme Bodyshaping $10,000 National Challenge and putting 100% into the Challenge, are truly amazing people. It's not easy to take yourself out of your comfort zone and to push your body further than you ever have before. Whether you have won or have fallen short, in the past, future, or present, you all are great, powerful, overcoming, determined, passionate, hardworking, and dedicated people! You should pat yourself on the back!
I joined Farrell's eXtreme Bodyshaping with multiple goals, the main one was to get healthier! I knew if I didn't lose some weight, that heart disease had a bigger chance of attacking me. It's already attacking my mother, grandmother, uncle, grandfather and the list goes on. Becoming healthy is a must for me. I've always been a chunky/chubby guy. I always ate what I wanted, when I wanted, and however much I wanted.
I've always had a passion for weightlifting and for years I thought weightlifting was the answer to becoming healthy. Until I went to see my doctor and he told me I may have high blood pressure. The results came back negative and over time my blood pressure stayed down. After seeing what heart disease has done to my family, that was enough to scare me to start making a change.
The love, the family feeling, the motivation that's shown to one another at Farrell's is incredible!! Farrell's is MY FAMILY! As a black man, it's sometimes easy to feel divided, especially in a little town like Grimes, IA.
The night before Farrell's, I couldn't sleep, I was excited and nervous. I was up thinking will they accept me, will they push me, will this even work, or am I just going to waste my time. I literally had to take sleeping medicine to sleep that night. The next morning, as soon as I walked in I felt uncomfortable. I quickly found a corner to duck into, I was looking for a familiar face, maybe a black face like mine but I never saw one. I must have been in the corner for 20 seconds, which felt like 20 minutes at the time when the smallest, cutest "old lady" walked up to me and asked me for my information. She tells me to take my shoes off and to follow her in a rushing manner. I was kind of taken back, I must say I don't really get along with people well and I don't have many friends but on that day this "old lady" (Elizabeth De Kruif) became my best friend! She stayed with me the whole time, she cheered me on, made me feel a part of the group, and welcomed me to the 9:15 AM class with open arms.
I quickly realized how challenging kickboxing is…it's a true workout! I was a big weightlifter, and this transition wasn't easy. Every day I went home sore in places that I've never been sore before, but I was determined to not fall victim to heart problems! I worked out every morning at 9:15 AM without missing a day for weeks and weeks. I only missed 2 days during my 10-Week Challenge because I had a trip that I had planned months before. I stayed committed to Farrell's because the people there were committed to me!
I worked out hard 6 days a week, watched what I was eating, and won the 10-Week Challenge! That was one of the happiest days of my life, a day that I will always remember! The transformation that I made in 10 weeks blew my mind, the support and love that I received from people at Farrell's especially Shelley Sherlock and Elizabeth DeKruif were amazing.
They texted and called me, checked up on me, pushed me, and encouraged me. After all the love and knowing I had an amazing support team, I decided to do the $10,000 National Challenge! I knew it would be hard because I already reached my goal of becoming "healthy". I went from 25.7% body fat percentage to 11% body fat but again my support team encouraged me. They knew I could do it, so I went for it.
The 10-Week Challenge seemed short and sweet, but this Challenge was a life-changing commitment. I had to switch my life routine, I had to completely change the way I thought about food, drinks, TV, and the couch. I had to step out of my comfort zone if I wanted to make a memorable change! It was so easy to fall off track during the holidays and I caught myself doing just that! I would eat just like the rest of my family, go back to Farrell's, and apologize for eating bad but my support team would remind me that this year-long Challenge isn't a race, that it is actually a marathon.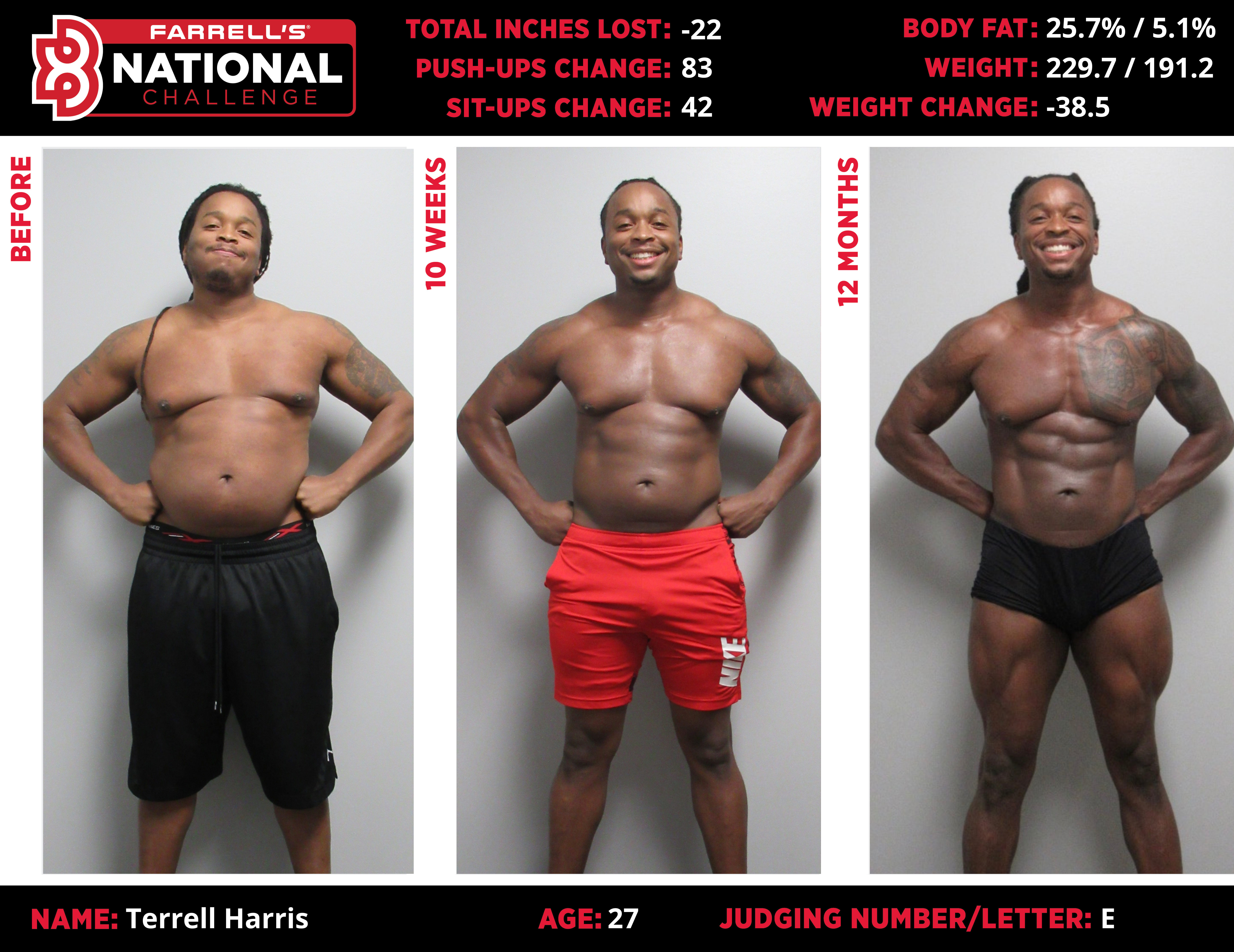 After the holidays, I was back in the zone! I wasn't going to let anything stop me. I was saying no to bad foods and drinks and working harder than ever!
Around this time, my work schedule changed. I was now working from 6 AM to 6 PM so that meant I would have to get up at 3:30 AM to workout at 4:15 AM, and then work a 12-hour shift. After about three months of adjusting, COVID hit America…it hurt! Not physically, because I never caught it, but mentally because I was so close to the finish line. It was April and my Challenge ended in June. I had no physical gym and no weight training. I completely gave up! I sat on the couch eating whatever I wanted and lying to my support team as if I was keeping busy and working out but actually, I was crushed. I didn't know what to do! Working out from home was a different experience than going to Farrell's. I didn't have my support team/family at my house to push me. It was just me, my TV and my snacks.
One day my son asked me "When are you going to win the competition?" as if I already had it in the bag. That woke something up inside me. He was anticipating my victory and I couldn't let him down! I decided to no longer use the virus as an excuse, it was a test and only the truly strong people get tested the hardest! I got connected with Jenae Halstead and she pushed me to focus hard on my diet during the quarantine and I did just that.
Jenae kept my diet in check. Safe to say it was working wonders, something as simple as not only staying away from bad foods but eating correctly took me to a whole different level.
I was then tested again with the murder of George Floyd. I tried really hard not to go to any protests, but I needed to go to support my family and friends. I went to one of the first protests in Des Moines. I was standing in a group when a police officer started firing rubber bullets at a man nearby. I was struck in the ankle with one of those rubber bullets. The whole time I'm thinking "another setback". That night I was barely able to walk. After a few days, my ankle started feeling a little better. I still fought through the pain, but Farrell's was starting to reopen. I thought this is it, this had to be my last test…but no! Three days before my final picture, my grandpa was found dead. I was hurt, crushed, defeated by life, but I had to hold it in! I didn't inform anyone at Farrell's because I didn't want sympathy. I was winning this National Challenge for them no matter what. Sad to say the day I took my picture and cried tears of joy with everyone at the gym, I then had to leave and cry tears of hurt with my family over the death of my grandfather. That day was really hard for me, very confusing. I didn't know whether to be up or down, but I knew one thing – my grandpa loved how hard I was working towards this Challenge and he was proud of me for giving it my all, no matter what life threw at me.
Thankful is an understatement for how grateful I am for Farrell's eXtreme Bodyshaping. Farrell's changed me! I used to see the glass half empty and now I see it half full. It's crazy what a little love can do for someone's day and a little more love can do for someone's life! I want to return the favor and be a Farrell's head coach/Instructor. I want to motivate everyone who comes through our studio doors. I am a part of the team and I want everyone to look at my experience and know it's accomplishable. I want them to know that they are a part of the team as well!